Sign Management for Local Governments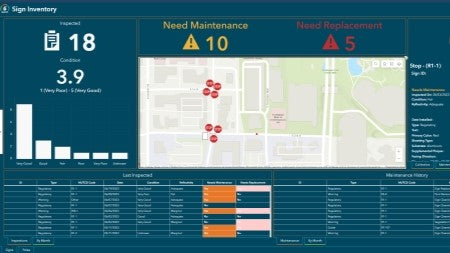 Empower municipalities with the Bad Elf GNSS and Esri ArcGIS Online Sign Management solution. Say goodbye to paper maps and outdated databases as we transition your workflow to a digital platform with our hardware and training services. Desktop professionals can create field work orders, saving precious time for mobile workers, enhancing safety and boosting productivity.
Our solution is your ally in complying with The Manual on Uniform Traffic Control Devices. Harness Bad Elf's GNSS accuracy with the Bad Elf Flex or Flex Mini for an exceptionally dependable system of record, regardless of your organization's size. It's a significant leap forward in sign management capabilities.
Experience financial gains with efficient resource allocation, reduced labor costs, long-term savings, and liability mitigation. By investing in our comprehensive sign management solution, cities can:
Prioritize Safety

Optimize Operations

Achieve Cost Efficiencies
Elevate your sign management game today. Contact us or click here to view our ArcGIS StoryMap for more information.