Our Bad Elf GNSS receivers provide reliable and high-performance GPS reception to any Bluetooth equipped computing device - Apple, Android, or Windows. On iOS devices, Bad Elf accessories work with any location-based app in the iTunes App Store.  Bad Elf also supports Android and Windows devices, providing streaming location data in standard NMEA sentences.
Our products offer a range of capabilities and accuracies (from 2.5 meters down to 1 meter1) to match your requirements.
Doesn't My Tablet Already Have GPS?
It depends. The majority of iPad devices sold by Apple are the Wi-Fi only models, which do not have an internal GPS receiver. Our products provide rock-solid location services for most GIS and field data collection applications.
The iPhone and cellular models of the iPad do have an internal GPS receiver, which will provide a reasonably reliable position. Many GIS professionals discover that the internal GPS is not as reliable when in remote areas without cell phone connectivity.
The GPS in many Android and Windows devices varies from manufacturer to manufacturer; few hardware vendors take the time to fully optimize the GPS receiver and antenna for GIS use.
It's All About The Apps
For the foreseeable future, innovation in the GIS industry will be driven by mobile apps.
Our products work seamlessly with most GIS and mapping apps. Our products are certified thru Apple's MFi hardware accessory program, so they work with any location-based app in the iTunes App Store. Android and Windows platforms are supported as well and as such, your Bad Elf isn't restricted to any mobile platform.
We are forging strong relationships with GIS app developers taking advantage of our products' advanced hardware features thru our Bad Elf Developer program. There are no restrictions on how you use your data. We believe in open standards. Any device that can connect to a Bad Elf GNSS receiver via Bluetooth will be able to consume data directly from our GNSS accessories.Your data. Your way.
"Having used my first device: on our main street, parks, sidewalks and everywhere in between I have been very impressed and excited about its performance especially its functionality with ESRI Collector."
Drew A., Local Government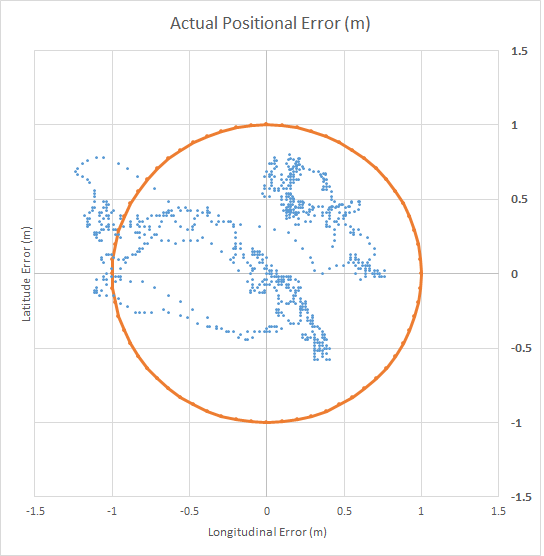 Real-world performance of the
GNSS Surveyor
Accuracy analaysis using ArcGIS Online Learn more