GNSS Corrections For Bad Elf Flex
GIS and survey professionals using the Bad Elf Flex® can now access centimeter-level RTK corrections across the continental US with zero configuration hassle and no long-term contracts. We partnered with Point One Navigation to integrate their nationwide Polaris subscription GNSS corrections network directly into the Bad Elf Flex receiver and app. Every Bad Elf Flex comes with a free 2-week trial, after which you can sign up for a contract-free monthly or yearly subscription.
How it works?
Traditional RTK (real-time kinematics) networks require configuration, login credentials, and knowing what to station is appropriate. Our service requires a simple button press to enable corrections with zero configuration required.

The Bad Elf Flex app provides everything you need to start a trial subscription, manage your current subscription, and activate services for your Bad Elf Flex.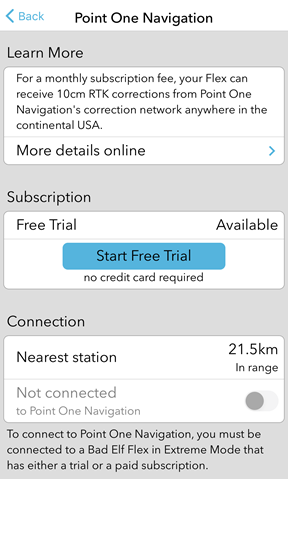 One-click to start your sample trial
One-click to activate services
Service Details and Requirements
Monthly billing at $99.99/mo. No long-term contracts. Start or stop service as needed
Each subscription is tied to a Bad Elf Flex serial number and therefore requires no app configuration
Compatible with Bad Elf Flex Standard (requires a Bad Elf Token for Extreme activation)
Compatible with Bad Elf Flex Extreme
10 cm R95 accuracy, better results when closer to a station
Automatic reference station selection - move between stations with zero configuration
Requires cellular-equipped phone or tablet with Internet connectivity
Polaris Coverage Map
Learn more about Point One Navigation
Full Screen
Getting Started
Open the Bad Elf Flex app. Download the latest version from the iOS App Store or Google Play if needed.
Connect your Bad Elf Flex receiver to your phone or tablet.
Tap on the Point One Navigation section and follow the prompts to activate your trial.