Vendors
Apglos Survey Wizard is an easy-to-use land survey application that works great with the Bad Elf Flex®. It makes land surveying accessible to everyone.
Apglos Survey Wizard's survey-grade functionality includes mapping, staking out, drawing, and calculating. It also supports coordinate reference systems from all over the world including the USA and Canada.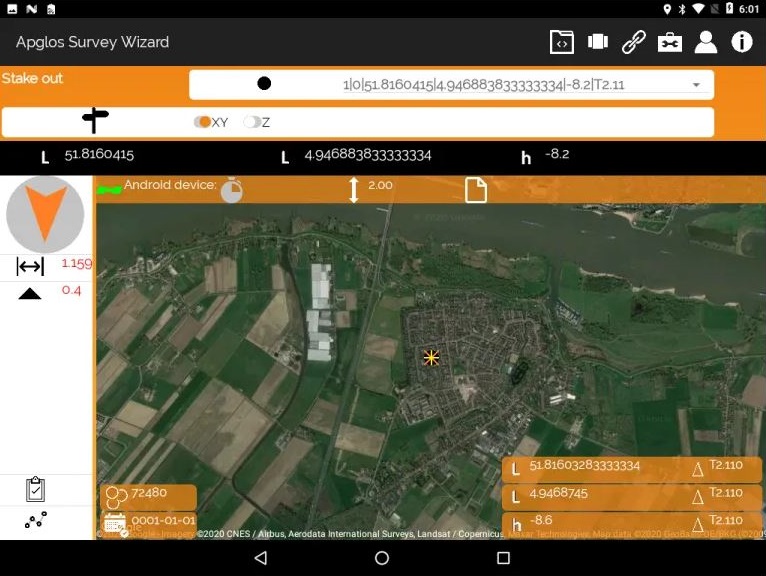 Apglos Survey Wizard offers a pay-per-use option, allowing you to pay only for the features you use. You can start land surveying for less than two dollars!
Download Apglos Survey Wizard from the Google Play Store today and start using it with the free 2500 credits available to every new user.
Apglos Survey Wizard is developed by a Dutch company called Apglos, whose offices are in a castle. Apglos is an abbreviation for Advanced Positioning GLObal Software and is a young and creative company focused primarily on developing GPS software.
Why Integrate as a Bad Elf App Partner?
The Bad Elf and the Apglos Survey Wizard are both mystical persons that together create GPS magic.
Together the Bad Elf Flex® GNSS receiver and the easy-to-use Apglos Survey Wizard software offer you the most accurate, affordable and flexible survey grade system on the market. This magic combination offers you scalable accuracy and flexible software that lowers your overall costs.

Connecting Bad Elf Flex to APGLOS
Benefits/Improvements Since Integrating with Bad Elf
In-app support videos
1921+ predefined coordinate reference systems (including the county coordinate reference systems of Iowa and Oregon)
Route navigation
Offline mode for remote areas