Water Utilities: Revolutionize Your Municipal Operations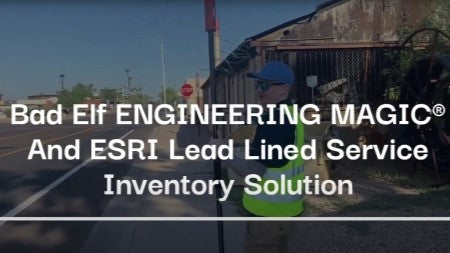 Transform your community's outdated paper maps and inspection practices with Bad Elf GNSS receivers and ArcGIS Online Lead Service Line Inventory solution. Our powerful combination of hardware, software, and training empowers municipalities, enhancing efficiency through digital asset mapping of lead service lines. Say goodbye to manual data management and embrace a streamlined, compliant, and community-engaged future.
Unlock Efficiency, Compliance, and Savings
Our solution ensures compliance with National Primary Drinking Water Regulations: Lead and Copper Rule Revisions. With Bad Elf's precision GNSS receivers and expertise, even small governments can establish a dependable system of record by:
Prioritizing safety
Optimizing operations
Achieving cost efficiencies
Invest in a comprehensive lead service line inventory today to revolutionize your organization's future. Contact us today or click here to view our ArcGIS StoryMap for more information.