Introducing the Bad Elf Flex® Mini: A Field Collection GPS Revolution!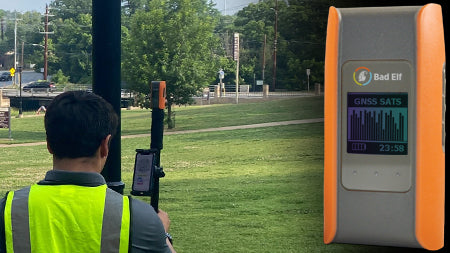 Words: 259 | Reading Time: 1 Minute
The Bad Elf Flex Mini revolutionizes your GPS experience. Let us tell you why:
In terms of value and simplicity, you won't find a better GPS unit in the world. Brace yourself for this pocket-sized powerhouse to make your professional life more productive and economical than ever.
With its small size, the Flex Mini can be affixed to your cell phone with our custom mount, giving you high-accuracy GPS capabilities at your fingertips. No more fumbling with clunky devices, knotted cables, or struggling to find space in your backpack. We designed the Flex Mini to seamlessly integrate with your mobile device, providing convenience like the world has never seen before. Believe me.
Whether you prefer SBAS for accurate positioning or RTK networks for ultra-precise measurements, the Flex Mini has you covered. Say goodbye to costly alternatives that eat into your budget. The Flex Mini offers top-notch performance at a fraction of the price, ensuring that you don't have to compromise on quality.
Experience the future of GPS technology with the Bad Elf Flex Mini. It's time to embrace a new era of affordability, simplicity, and unparalleled convenience. Upgrade your professional toolkit today and unlock a world of possibilities with the game-changing Bad Elf Flex Mini. If you want to talk to a Bad Elf Geospatial Enablement Specialist about the Flex Mini, please email us at nik@bad-elf.com. Until then, happy mapping!