Announcement: New Bad Elf App and Firmware for the GNSS Surveyor Accessory (Post-Processing and DGPS Support)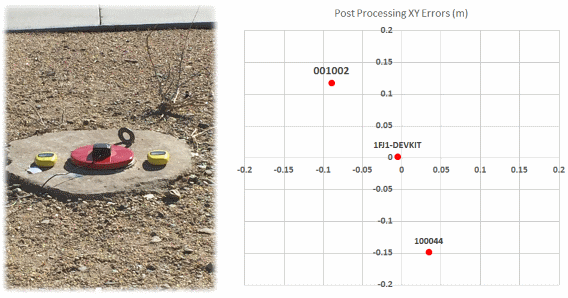 We designed and built the Bad Elf GNSS Surveyor to provide affordable mapping-grade accuracy of about 1 meter when used with SBAS and PPP. The Surveyor has reliably achieved accuracy better than traditional external GNSS accessories. After careful research and rigorous testing, we have enhanced the GNSS Surveyor to expose some of the additional capabilities of this very capable accessory.

Last week we released two major new features: high-accuracy raw data collection for post-processing and support for real-time Differential Global Positioning System (DGPS) corrections via our app's built-in NTRIP client. To access these additional capabilities, download the latest app from iTunes and then follow the in-app instructions to upgrade the firmware on your GNSS Surveyor.
Post-processing - Getting Accuracy Below 1 Meter
Inside the GNSS Surveyor resides a very capable GNSS chipset. For those who require even higher levels of accuracy, post-processing is an excellent solution. Now available in the most recent firmware and app release, Bad Elf is providing a means to collect and download raw satellite data.

For those using commercial products, we have also provided a capability to produce a Receiver Independent Exchange Format (RINEX) file for use in many of the most common post-processing tools. The Bad Elf iOS app can produce a RINEX Version 2 or 3 file which you can then export to your email or favorite cloud storage service.
Our testing has demonstrated some pretty fantastic results. Using best practices such as good GPS receiver orientation, reasonable occupation times (10-15 minutes), and good field conditions, we have reliably produced sub-meter results as good as 20-50cm.
We have tested the RINEX files generated by the GNSS Surveyor with both RTKLib and Trimble Business Center. In addition, Natural Resources of Canada provides an online service, CSRS-PPP, capable of consuming and post-processing data from an L1-only source.
DGPS - High Accuracy Worldwide
Working in an area not covered by SBAS? SBAS is limited to the US and most of Europe plus a few other countries north of the equator. The Bad Elf engineering team recognized the need for a high-accuracy solution in geographies SBAS doesn't serve.
DGPS is an enhancement to GPS that provides improved location accuracy. Ideally, GPS accuracy is approximately 5 meters nominally.  In conjunction with the Bad Elf iOS app and the built-in NTRIP client, the Bad Elf GNSS Surveyor can consume an RTCM 2.3 stream from local reference stations or a Virtual Reference Station (VRS). Real-time, Internet-delivered, DGPS corrections are applied to the location solution and immediately available to any connected app. Using DGPS, the Bad Elf GNSS Surveyor's accuracy can improve to approximately 1.0m to 1.5m depending upon conditions and proximity to a reference station.
In Closing
These powerful features are a free update to the Bad Elf GNSS Surveyor and iOS app.  The GNSS Surveyor is the most affordable 1 meter GNSS receiver available on the market today, and it works with a variety of GIS apps on iOS, Android, and Windows.
Want to learn more?  Visit the
Bad Elf GIS product page
or
contact us
with any additional questions.