Vendors

FieldGenius for Android™ is leading the next generation of field software for surveyors and GIS professionals
MicroSurvey Software Inc. is dedicated to providing efficient world-class software solutions for Land Surveying Professionals, Construction Professionals, Civil Engineers, and Forensic Reconstruction Specialists.
MicroSurvey brings decades of innovation and expertise in survey field software creation to our next generation multi-platform FieldGenius application. The map-driven data collection software is easy to use and intuitive, improving field efficiency and reducing training time while maintaining lower customer costs.
This complete refresh of the product opens up new opportunities in new markets such as GIS and non-survey grade applications. Brand-neutral support has always been a core feature of the FieldGenius product line, where users can work with hundreds of models of GNSS sensors from the world's most popular instrument manufacturers. FieldGenius for Android expands on brand neutrality by making the jump to a multi-platform code base. The first target for this next-generation product is the Android operating system, with Windows and IOS versions to follow. This platform truly gives you the freedom of choice for your equipment and for most Android devices, including phones, phablets, and tablets.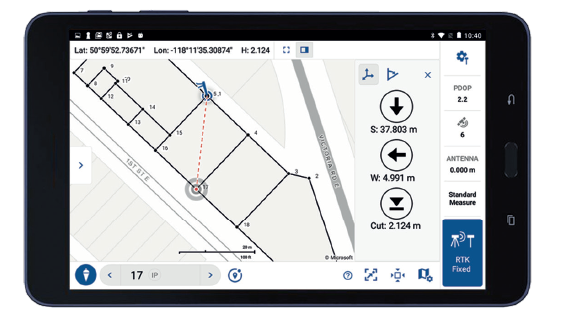 Key Features
With more than 20 years of experience developing field software for geomatics professionals, MicroSurvey is changing what you can expect from your data collection software. Use your Android tablet or phone to:
Draw code-free linework
Use map-driven workflows
Perform local transformations
Collect with the device's GNSS
Import and export DXF files
Stake out points and lines
Collect in RTK via Radio or Internet (NTRIP)
Easily use hundreds of coordinate systems and geoids