Vendors
Colligo GIS was born from a simple need, to create a more accessible GIS solution.

Your GIS information is extremely valuable. The expense, in both time and money, to create GIS data is substantial. The expense to maintain it shouldn't be. Unfortunately, the complexity and cost of current GIS solutions inhibit maintenance needs. Colligo GIS solves this problem by providing a secure and easy to use Software as a Service, cloud-based GIS platform, that substantially reduces these prohibitive factors of cost and complexity.
Colligo makes GIS available to those who need a powerful, easy-to-use and cost-effective solution.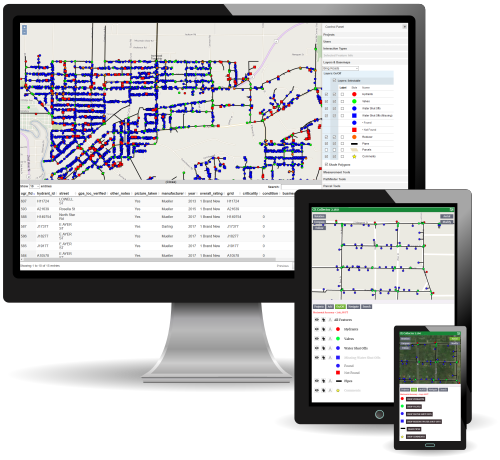 With more than 25 years of experience in civil engineering technology, surveying, data collection and software development, combined with more than 15 years of applying this real-world experience into GIS, Colligo will enhance and quite possibly revolutionize your current GIS process.
The Desktop, Mobile and Management tools work with Android, iOS and Windows and include these key features.
The in-office side of Colligo GIS provides the typical tools you would find in a desktop GIS software as well as some unique items, all while being cloud-based for a maintenance free experience. Allowing users to access, update and analyze their GIS data in a centralized location.
Feature Creation with Unlimited Attribution (Point, Line, Polygon)
Searching, Reporting & Multi-Selection
Buffers & Measurement Tools
Interactive Parcel Mapping Tools
Reporting & Analysis
Coordinate System Transformations
The field data-collection side of Colligo GIS provides field crews a streamlined interface to necessary GIS data in an automatic online/offline environment. With real-time editing, changes are automatically synced between field and office staff, keeping everyone updated with the latest content.
Stakeout
Simple-to-Use Creation and Editing Tools
Conditional Forms & Classifications
Geo-Referenced Image Overlays
Navigation Tools to Find Real-World Locations (Compass or Turn-By-Turn)
Compatible with Precision GPS Devices
The administrator's portal of Colligo GIS allows complete control over projects, GIS layers and user access. Administrators can create GIS layers from scratch or import from other data sources. Define custom/conditional forms and styling per project.
Create/Manage/Assign Projects
Import/Export Datasets
Custom & Conditional Feature Styling
Create/Manage Image Overlays
Manage User Access on a Per-Project/Per-Layer Level
Flexible subscription pricing - To learn more, visit us at:
ColligoGIS.com