Bad Elf GPS Receiver Trial Request
Trial Process
Bad Elf makes avaialble a limited number of GPS receivers for customers seeking to field test before purchase. The selection criteria follows the below listed parameters with limited exceptions. We currently do not ask for credit cards to reserve or guarantee a trial. All we ask is that you work with us to have a successful trial and return the unit in good working order in a timely manner so that other customers will have the same benefit.
Customers may request either a GPS Pro+ or a GNSS Surveyor. For larger deployments, Bad Elf Sales will discuss additional receiver availability.
Customer must expect to purchase more than 1 unit within 6 months.
Trials are for 2 weeks maximum after receipt of the sample GPS receiver.
Any special arrangements must be approved by Bad Elf sales staff.
Demo units are not for sale and must be returned
Demo units may have cosmetic flaws but will be tested and conform to published specifications.
Lost, stolen, or damaged demo units are your responsibility
---
Bad Elf GIS Ready Receivers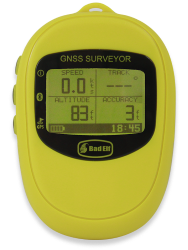 Static Data Collection
~1m Accuracy
Trial Request Form
In order to request a trial we ask that you complete the entire form. Upon submission, a Bad Elf sales representative will contact you as soon as possible.