Affordable External GPS Solutions. Comprehensive Industry Support.
Introducing Bad Elf Flex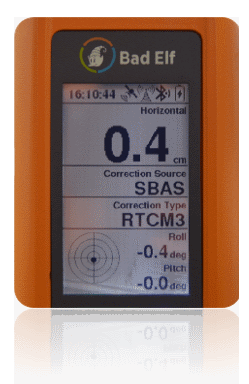 Bad Elf decided that our next generation GNSS receiver needed to be flexible and affordable. Inspired to achieve this goal, Bad Elf set out to democratize GNSS. Bad Elf Flex accomplished this by being the first survey-grade receiver that provides choices for flexible accuracy while remaining highly affordable.
Designed and built using world-class hardware, the Bad Elf Flex is built upon proven and reliable technology. Bad Elf Flex sports a clean profile designed to work with a variety of mounting options. Interested in our next generation of GNSS receiver, learn more here.
Engineering Magic®
Apple Approved
Bad Elf's accessories meet the requirements of Apple's MFi program. Our engineering team tests extensively with each new product release of the iPhone, iPad, and iPod touch.
Apps Galore
Developers with deep domain expertise and great design acumen combine Bad Elf with iOS, Android, and Windows devices to create the ultimate user experience.
No Cellular Required
Our products provide rock-solid GPS regardless of cellular service. Wifi only device, no problem. Use your GPS position in any location aware app.
---