Data Logging & Trip Management

GIS Resources Home
The Bad Elf app for iOS is capable of commanding the Bad Elf GPS receiver to record GPS data once enabled. Trips can later be retrieved from your receiver and sent to you as either KML or GPX. This article covers the basics of logging trips, retrieving trips, and access to datalogger settings.
Logging a Trip Using the Bad Elf App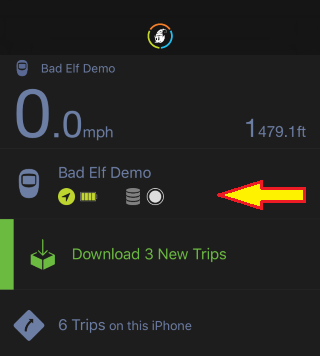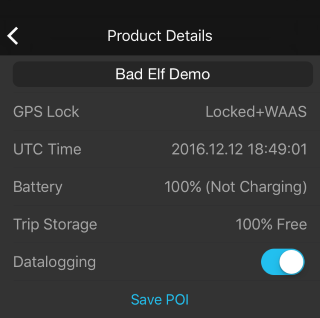 To begin recording a trip, click on your Bad Elf Receiver on the main page of the Bad Elf app.
To enable logging, select the switch below the item labeled Datalogging and turn it on. Should you desire to record a Point of Interest (POI), click on the Save POI label. To stop the current trip, slide the Datalogging switch to the off position.
---
Downloading Trips from the Bad Elf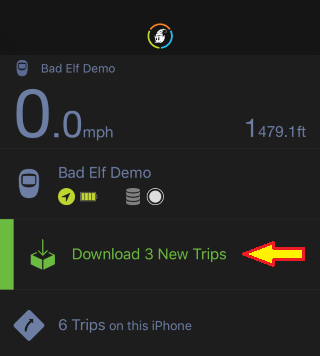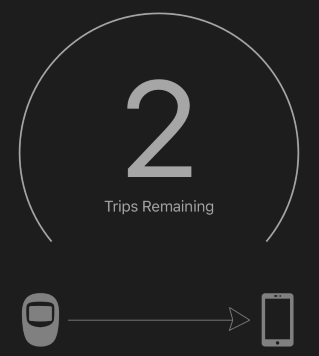 To retrieve recorded trips from your Bad Elf Receiver, click on the Download X New Trips link on the main page of the Bad Elf app.
A dialog is displayed indicating that the trips on your Bad Elf receiver are being sent to the phone. Once you have selected this option, all the trips on your device will be transferred to your iOS device. You may use the "<" button to return to the main display as the transfer will occur in the background.
Once the download process is complete, a dialog is presented allowing you to remove trips from your Bad Elf receiver. Clicking "Yes" will remove the trips from your receiver permanently. Clicking "No" will retain the original copy on your Bad Elf should you choose to download again.
To send your trips to another app, cloud service, or email, click on the link "X Trips on this iPhone". For more details on how to offload trips from your Bad Elf app, see this article.
---
Datalogger Settings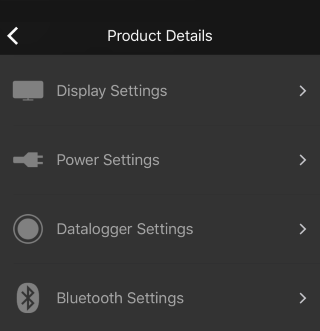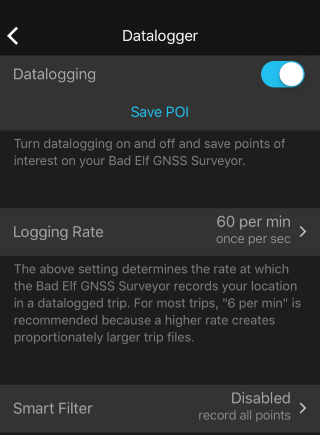 From the Product Details screen, click on Datalogger Settings to change the default behaviour of the GPS data logger. Settings for the datalogger are available on this page. Generally, the default settings are satisfactory for most uses. However, you may choose to adjust these settings before you begin a logging session. Settings that are changed are retained until you actively change them.